We emphasize the aesthetic aspect in ALL our work because we know that when your smile looks good, you feel good! We use the best combination of preventive care, tooth-colored fillings, and restorative dentistry for optimum dental health. Modern smile makeovers are so easy (and affordable!) that there's simply no reason you can't have the perfectly beautiful, natural-looking smile you've always wanted.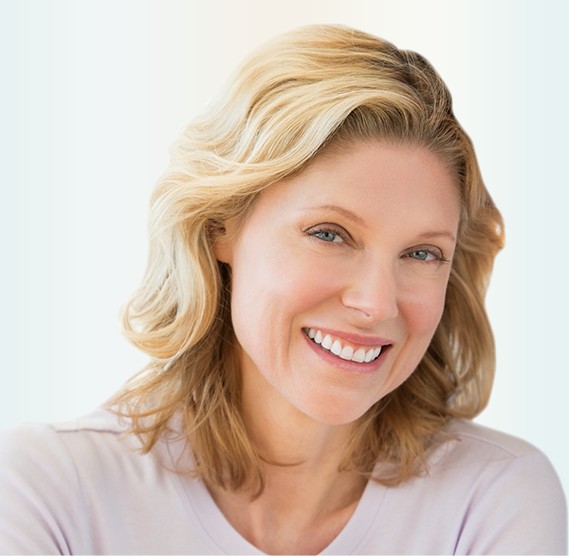 Dental Implant Restoration for a Perfect Smile
Dental implants are the ideal way to replace lost teeth. From the front of the mouth, where they are most visible, to the back, where they provide stability to chew a full variety of foods, implants can help you recapture a beautiful and healthy smile. Unlike bridges or removable dentures, which sit on top of the gums, dental implants are placed under the gums. The "tooth" placed on an implant appears life-like, because it comes through the gums just like the original did – it's like growing a new tooth! Implants can be used to replace any number of lost teeth. Even people with no teeth can benefit from implants, because they can replace their dentures with teeth that don't move around when they talk and don't need to be taken out at night. After an oral surgeon places a titanium post, Dr. Adams will custom-create natural-looking restorations. Get the smile you deserve – permanently!
A Crown Restores a Damaged Tooth
Crowns are sometimes necessary to save a broken or worn-down tooth when a simple filling will not restore it to full functionality. A crown will save and even add strength to the damaged tooth. We use the most advanced materials to make your crown, which will look so natural you won't be able to distinguish it from a real tooth.
An Affordable Alternative for Multiple Missing Teeth
For some patients who have more than one missing tooth, a bridge may be a suitable solution. Custom made with the same high-quality materials, a bridge is anchored on both sides with crowns and fills the gap for a return to function and comfort, as well as a full smile.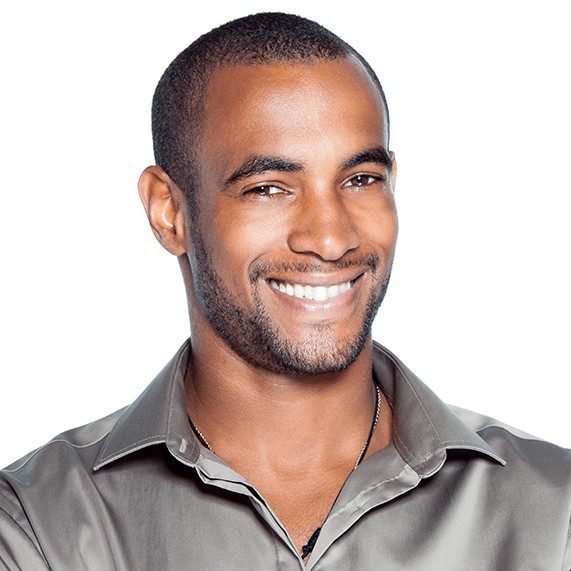 Full-Mouth Rehabilitation
Oral health can have a far bigger impact on a person's life than regular cleanings and the occasional filling can address. Many patients who've dealt with injury, illness, bite problems, and simple wear and tear can have chronic problems that they don't even realize began in the mouth. Bruxism (tooth grinding), TMJ, periodontitis, crooked or misshapen teeth, and missing teeth can combine to cause headaches and migraines, toothaches, chronic bad breath, and an unattractive appearance. But you don't have to live like that.
Dr. Adams will sit down with you to discuss your concerns, symptoms, and goals. After taking digital X-rays, photos, and imprints of your mouth, he will present options for a treatment plan to address your issues and achieve a healthy, pain-free, beautiful smile. We can also discuss phased treatment and financial planning that will put your dream smile within reach.
No Mercury! No Metals!
No Kidding!
For years, the silver-mercury amalgam has been the standard filling material used in dental practices, and many practices still use it. While they are a reasonable restoration, amalgams have certain shortcomings. Metal does not bond well to teeth, so decay can and does eventually leak into the tooth. But the biggest reason many of our patients are choosing the white bonded fillings has to do with the way they look. Many people just don't want an ugly black plug in their teeth. We offer modern restorations that are a natural-looking white, contain no metals, and can actually strengthen your teeth. They also bond very tightly with the healthy part of the tooth so there is much less chance of decay in the future.
Amalgam Fillings
Bonded White Fillings
Teeth Whitening – Dazzling Results!
It's natural to want brighter teeth! Whiter teeth are healthier looking, and easier to achieve than most people think. The only way to get your teeth their whitest is by using a professionally supervised bleaching process. We offer custom teeth whitening trays, made in our own lab. You will receive supplies and instructions and you finish the procedure at home. This technique is safe and effective. Results occur within 1 – 14 days.
Schedule a complimentary consultation by calling 281-493-4173, and discover how reconstructive and cosmetic solutions can give you a brilliant new smile!